ALL DAY BREAKFAST
Leading with cultural insights, CUATRO developed and executed a public relations plan for Hispanic media outreach, food drops and street teams. Overall CUATRO was part of an integrated agency team that helped to deliver the best results of all ADB test markets in the U.S.

BACK PACK SATURDAY
CUATRO led a multi-year effort to distribute hundreds of thousands of back-packs to underprivileged kids at McDonald's restaurants throughout Arizona as part of their Heart of the Community initiative. We led the entire integrated grassroots initiative from planning, to partner procurement to local promotion and media outreach, to event production at all of the participating McDonald's restaurants.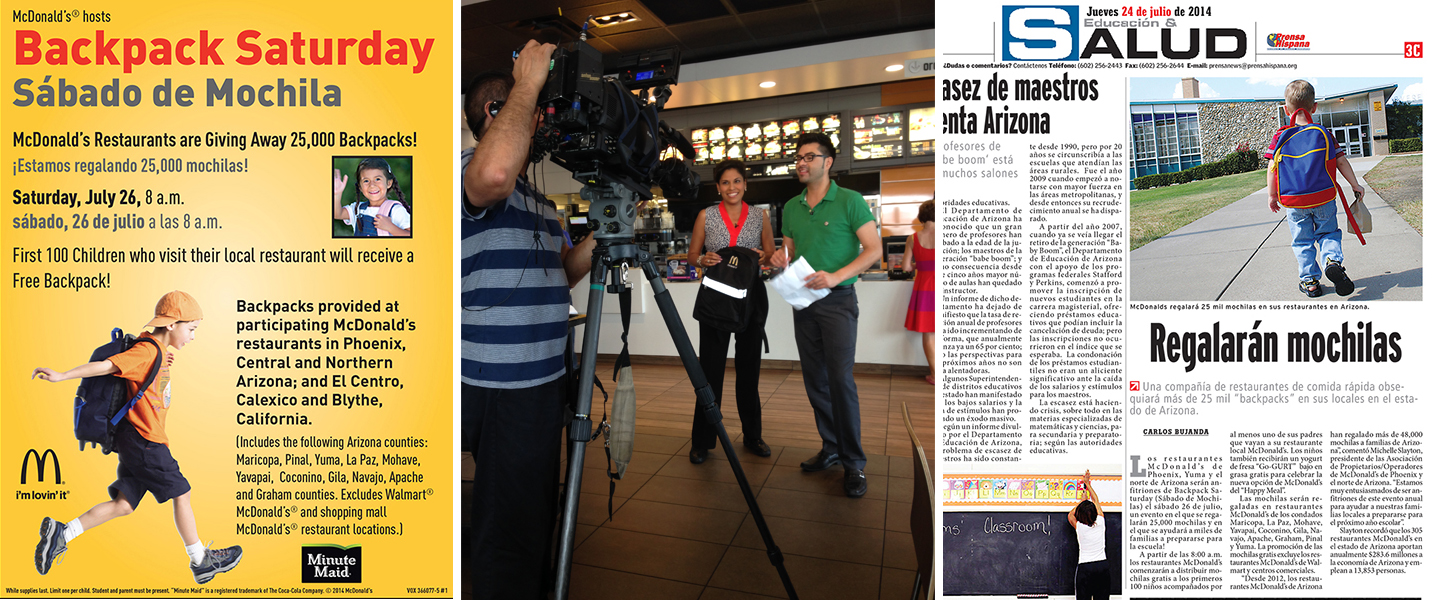 Dia Del Niño
CUATRO was charged with activating Dia Del Nino (Day of the Child) in Phoenix. We identified key event partnerships and executed all logistics required to distribute thousands of books to children in need throughout the valley.

McCafé HISPANIC EVENT ACTIVATION & SAMPLING
In an effort to drive mass awareness and sampling of McDonald's McCafé offerings, CUATRO lead a multi-year community event sponsorship initiative which consisted of staff procurement, training, event production, product management and sample distribution. Overall, CUATRO oversaw the distribution of over 250,000 McCafé product samples.

ANNUAL SOUTH PHOENIX THANKSGIVING EVENT
For over 10 years, CUATRO has worked with a local McDonald Owner Operator to produce the Annual South Phoenix Thanksgiving Event. Each year, thousands of families in need receive a complimentary breakfast and enjoy a morning of fun filled entertainment and experiences to kick off the holiday season.